OVERVIEW

Steaming and baking in
one machine.

This hybrid oven has three cooking functions: oven function, steaming function, and steaming and baking function. This is a versatile oven that allows you to select a heating method depending on the product and set up your own unique combination. (The oven name "Versale" is a word coined by Takigawa Kogyo, named after the versatility model.)
This is a hybrid oven that uses both steam and heaters (electric or gas type). Various cooking methods can be set up, such as baking and steaming at the same time or separating the first and second halves. Therefore, it can be used for production of a wide variety of products, and also plays an important role in new product development.
Products that could not be produced continuously before can now be produced with this system. Even that French bread can be produced continuously. A test machine is always available in our exhibition room. Please make use of it for steaming, baking,
sterilization, etc. to determine the conditions for new products.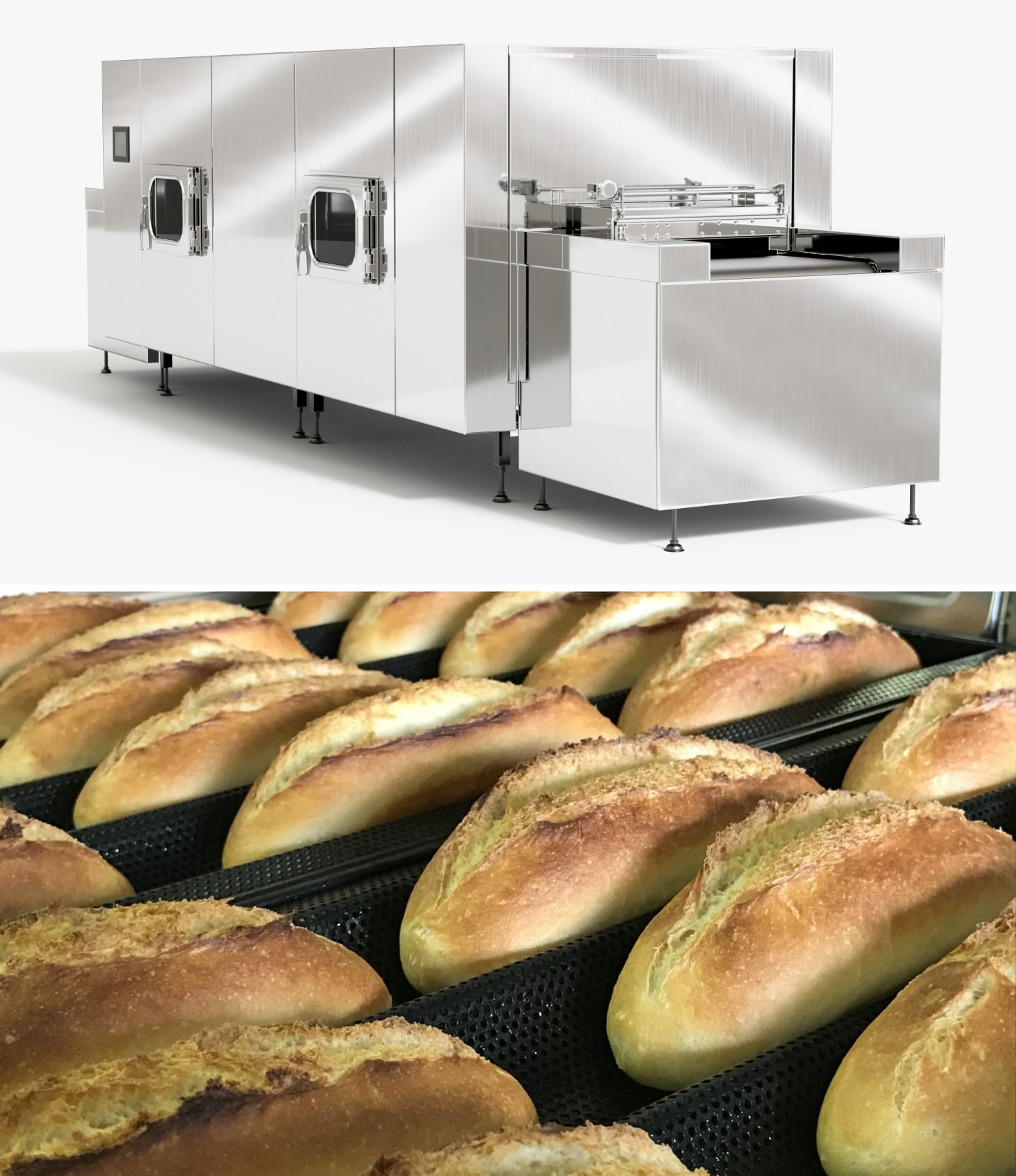 ・Steaming, baking, and steaming/roasting processes can be performed in a single unit, allowing for effective use of space.
・Heat source (electric or gas) can be selected to suit the application and site.
Excellent for small-quantity, high-mix production.
・The temperature and moisture level most suitable for the product can be adjusted.
・Heat transfer to the product is accelerated by baking with humidification,
which shortens the cooking time.
・Can be used in new product development and for sterilization other than heat processing production.
・It is also possible to add superheated steam.
・The size of the main unit can be customized to meet customer needs.
Specifications
(Test machine specifications)
Conveying section: Net conveyor type
Heat source: Electric heater
Electric capacity: 3 phase, 200V, 40kw
Chamber temperature: Normal use: 200 C
MAX: 280 C
Effective width: 800 mm
Overall width: 1750 mm
Effective length: 4000 mm
Overall length: 6215 mm
Firing time: 1 to 60 minutes
*We can design and manufacture
according to the customer's request.
Examples of use
SteamingSteamed pudding,
Chinese manju,
Chawan-mushi,
Steamed bread,
Steamed cake,
Steam sterilization

BakingMooncakes, Pizza,
Tart dough cake sponge,
Hot air drying

Steaming and BakingBaked pudding,
Cheesecake,
Puff pastry, French bread
Steamer

Tower Conveyer

RATIONAL
Steam
Convection Oven