OVERVIEW

Pursuing "steaming"
for 50 years.

This equipment forms the basis of our food machinery. Uniform steaming, even finishing, and measures against dewdrops are a matter of course. We can customize our machines to meet your needs, such as models with even higher energy-saving performance than before, models with improved sanitation, and models with a temperature curve from low to high temperatures.
Models can be selected according to the steaming product and application. This steaming machine is designed to handle a wide variety of products in consideration of ease of cleaning, safety, and economy. We can manufacture custom-made machines that meet the needs of your company. Tunnel steaming machines can be up to 3.2 m wide, and the Chinese bun steaming equipment, which is popular overseas, can also be equipped with pre- and post-fermentation equipment such as continuous fermentation equipment and branding machines. Our products are used not only for cooking, but also as sterilizers, which are importantfor packaged products.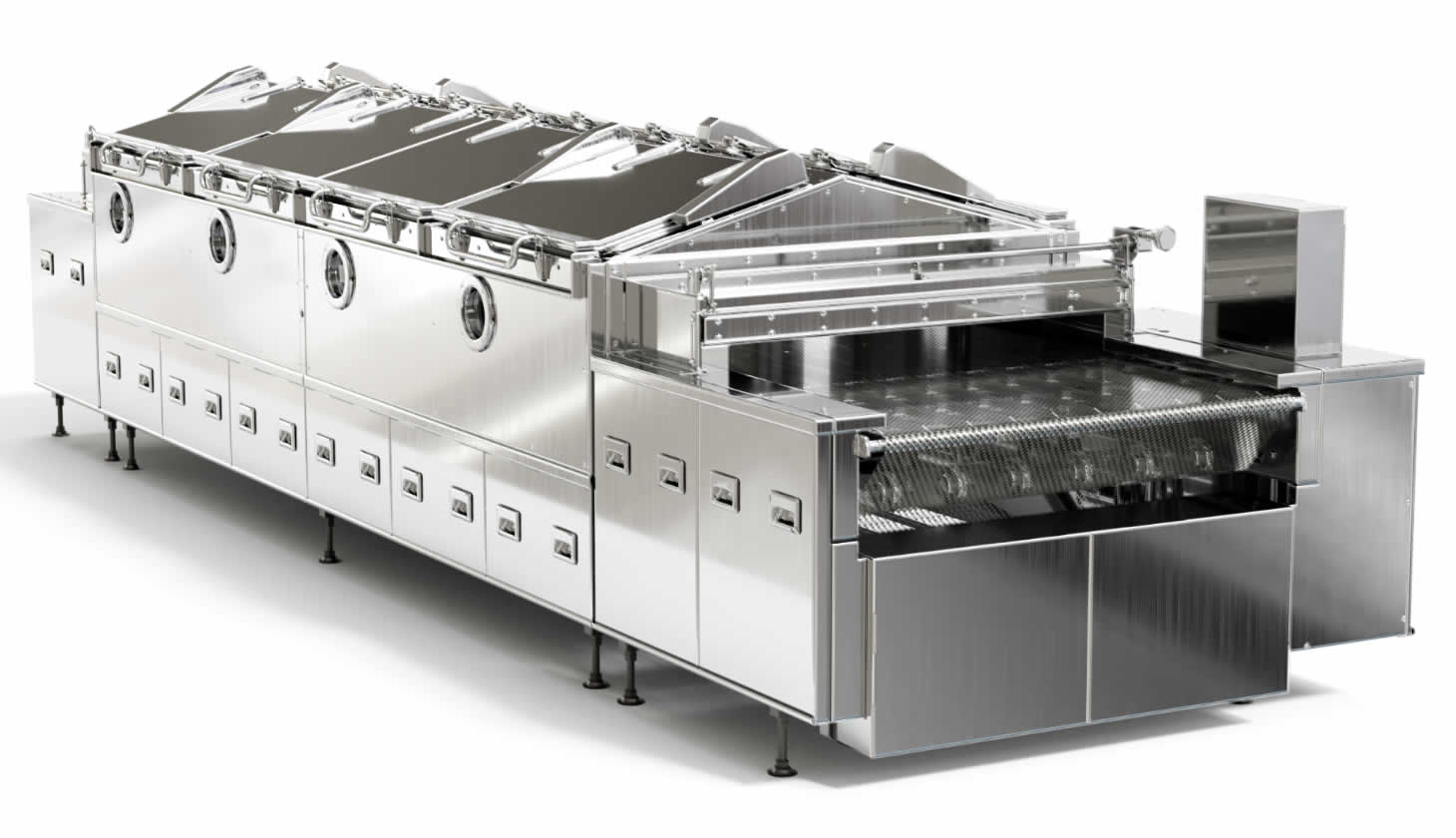 ・Prevents dewdrops and
product loss
A double roof is provided inside the steamer to prevent dewdrops, which are the biggest concern in steaming machines. To further prevent dewdrops, a heater is installed at the entrance to the steamer. The heater section is movable, so the height can be changed according to the shape of the product.
・Easy operation of steam
control (optional)
Temperature can be set on the touch panel for each zone, and steam pressure for each zone is also displayed digitally, allowing for soft products using weak steam to products using strong steam.
・Variety setting available
(optional)
Temperature settings can be registered for each type of product using a touch panel,facilitating smooth changeover from one type to another.
・Less waste and energy
consumption
No energy loss due to direct use of generated steam. In addition, the main body is insulated, each zone is partitioned, and the entrance and exit are equipped with our original steam leakage prevention device to minimize the amount of steam used for steaming without waste.
・Easy to clean and hygienic
Inspection doors are provided on both sides of each zone of the main unit, making it easy to clean the inside of the chamber for sanitation. The bottom of the main body has a sloping structure, and the corners are rounded to prevent foreign matter, such as scraps, from being trapped. An open-top steamer with improved cleanability is also available.
・Extremely low-pressure steam
generation system (optional)
Steam at extremely low pressure, close to that of steam, is supplied without the use of a special generator. It can also supply conventional strong steam, making it possible to produce almost any product.
Steamer in production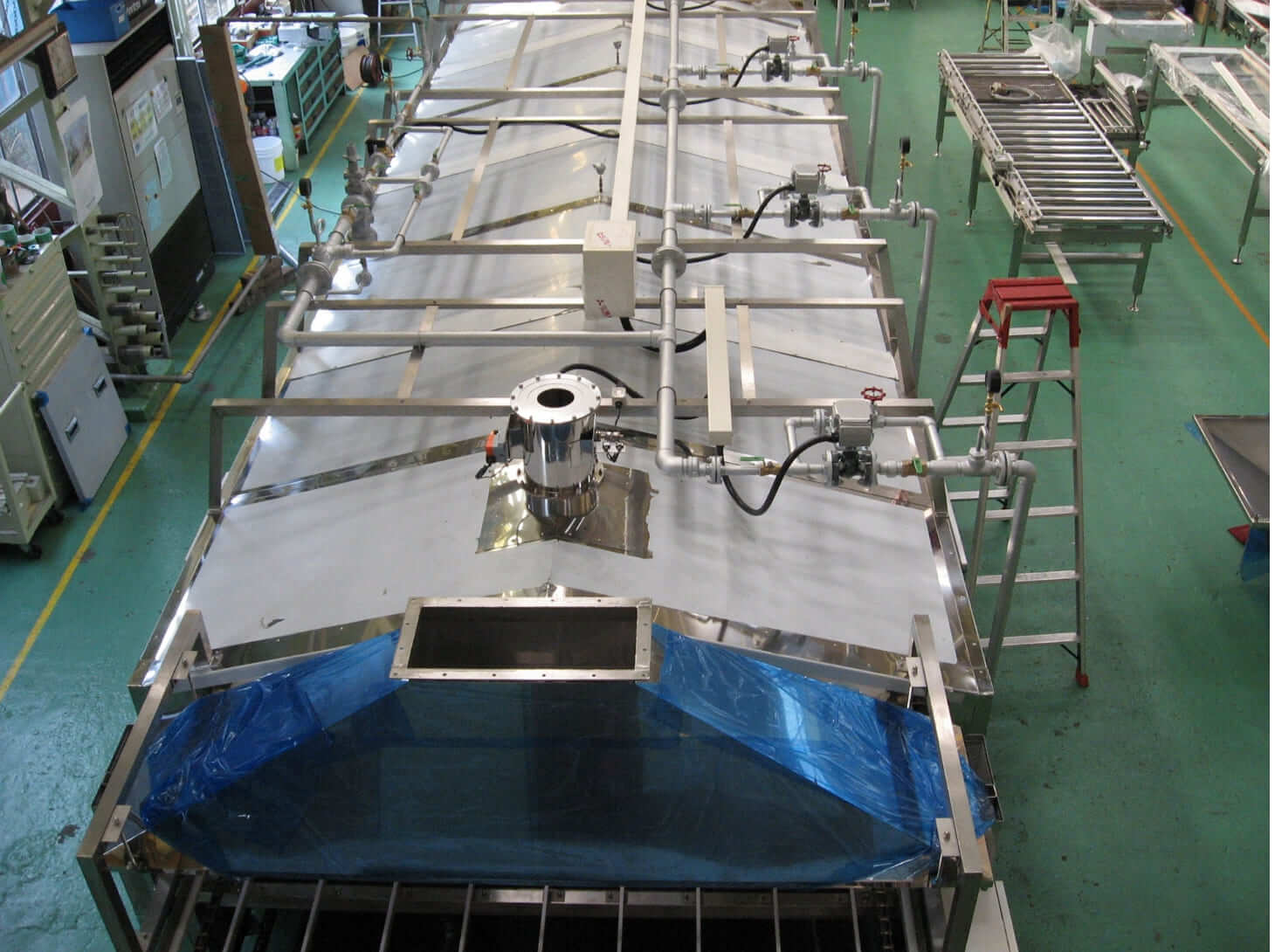 Dimensions
Dimensions
Dimensions
Type
W
W1
L
L1
L2
L3
H
SP-800
800
1,300
10,000
1,000
1,200
12,200
950
SP-1,000
1,000
1,500
10,000
1,000
1,200
12,200
950
SP-1,200
1,200
1,700
10,000
1,000
1,200
12,200
950
SP-1,600
1,600
2,100
10,000
1,000
1,200
12,200
950
SP-2,000
2,000
2,500
10,000
1,000
1,200
12,200
950
SP-2,400
2,400
3,000
10,000
1,000
1,200
12,200
950
N=5スパンの例 N:ブロック(スパン)数
Examples of use
Steamed pudding

Chinese manju

Chinese manju

Chawan-mushi

Steamed bread

Steamed cake

Potato(Potato salad)

Boiled egg

Steam sterilization
Hybrid Oven

Tower Conveyer

RATIONAL
Steam
Convection Oven