OVERVIEW

We reinvented the conveyor.

This space-saving vertical model is ideal for products that require heating, cooling, drying, and other long-time processing. The tower conveyor can be used by itself as a stocker or storage conveyor, or in combination with various units for a wide range of applications.
-Combination with heat source → Sterilizer, dryer, steamer, fermenter, etc.
-Combination with cold water and cold air → Cooling machine, chocolate cooler, etc.
The tower conveyor is a conveyor system that has fundamentally reformed the conventional conveying method. It is a highly versatile device that can be made threedimensional according to the application and factory conditions. Furthermore, the installation space is minimized compared to conventional three-dimensional equipment.
Tower conveyors are available in two types: the tray type, in which the material is placed on a tray for processing (conveyance), and the carrier type, in which the material is placed directly on a carrier for processing (conveyance) without the use of a tray.
Carrier types include caterpillar type, net type, and belt type, and can be selected according to the shape of the processed product.
・Limits both flat and solid space to a minimum.
・Compact equipment allows for long dwell time, which reduces equipment and running costs.
・Products to be processed always move in a horizontal position.
 This is ideal for processing products that require a horizontal level.
・Carrier type does not require a dedicated tray, allowing for the transfer of "bulk" products.
・Products can be fed and unloaded at a fixed height and interval.
・Almost no shocks during startup and shutdown. There is no risk of product damage or deformation.
・A wide range of applications based on your own ideas.
Carrier Type Tower Conveyor
Illustration of carrier-type tower conveyor operation
*Flexible arrangement can be made to fit the space in the factory and related equipment and devices. Please feel free to contact us.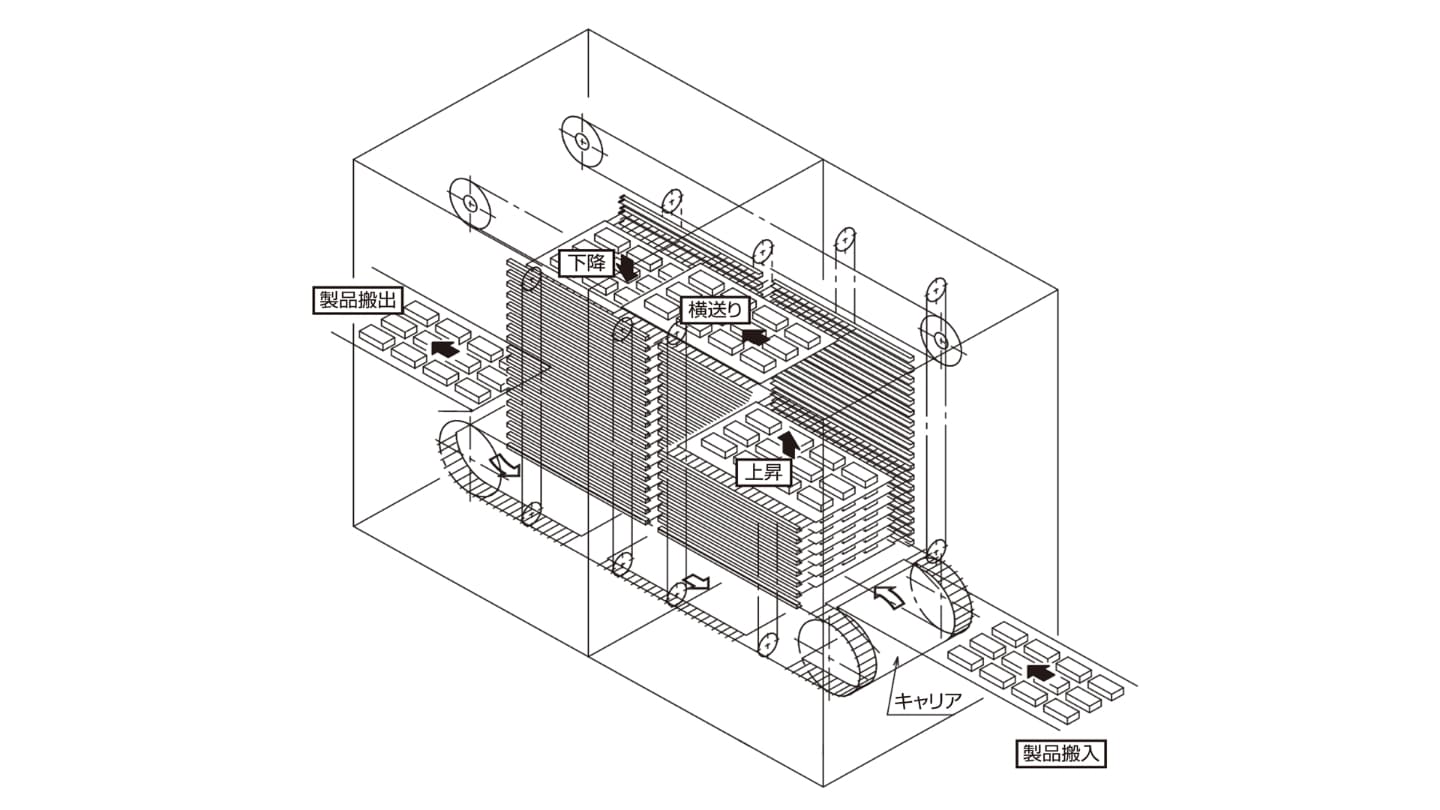 Examples of use
Heat treatment

Fermentation

Drying

Sterilization

Cooling

Storage
Steamer

Hybrid Oven

RATIONAL
Steam
Convection Oven